International Rail Ticket Issue Systems

Itinerary Planning Publications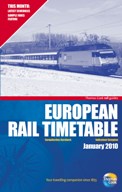 Thomas Cook European Rail Timetable - published since 1873, the world-famous book has timetables for trains, buses and boats in all European countries, ships to North Africa, Israel & the Mediterranean islands. If you're going to travel a lot, for example with an InterRail or Eurail pass, this book is ideal in assisting to plan your journey.
The book costs £13.99 and can be purchased directly on www.thomascookpublishing.com. All customers receive an online discount of 10% on every timetable purchased.
Alternatively the book can be purchased by phone on 01733 416477 or from the bureau de change in any UK branch of Thomas Cook.
The Thomas Cook Rail Map of Europe - comprehensive map of European train routes showing all rail lines from Portugal in the west to Ukraine in the east, from Finland in the north to Sicily in the south. Scenic routes are highlighted. It costs around £8.99 from branches of Thomas Cook. Well worth buying, especially if you are buying an InterRail or Eurail pass.

International Rail Booking Agents
ACP Rail International
www.ACPRail.com
Althams Travel Services Ltd
www.althams.co.uk
ATP International
08707 220003
raildepartment@atpi.com
Delta Travel
European Rail
020 7387 0444
www.europeanrail.com
Eurostar
08705 186 186
www.eurostar.co.uk
Ffestiniog Travel
01766 512400
info@festtravel.demon.co.uk
www.festtravel.co.uk
Freedom Rail
08707 579898
www.freedomrail.com
Miki Travel
020 7398 5098
sales@miki.co.uk
www.miki.co.uk

Rail Bookers
0870 730 0720
info@railbookers.com
www.railbookers.com
Rail Canterbury
01227 450088
rail@rail-canterbury.co.uk
www.rail-canterbury.co.uk
RailChoice
www.railchoice.co.uk
Rail Europe Ltd
08705 848 848
reservations@raileurope.co.uk
www.raileurope.co.uk

Railsavers
08705 50 70 70
info@railsavers.com
www.railsavers.com

Rail Select
01904 521 921
www.railselect.com
Railwise
020 7242 1490
railwise@btinternet.com
The Russia Experience
020 8566 8846
info@trans-siberian.co.uk
www.trans-siberian.co.uk
Spanish Railways UK
020 7224 0345
enquiries@spanish-rail.co.uk
www.spanish-rail.co.uk
Switzerland Travel Centre Ltd
00800 100 200 30
info.uk@myswitzerland.com
www.myswitzerland.com
Trainseurope Ltd
0871 700 7722
info@trainseurope.co.uk
www.trainseurope.co.uk
The Travel Bureau
01902 326662
www.thetravelbureau.co.uk

treyn Holidays
01904 734939
www.railholidays.com
Ultima Travel
0151 339 6171

Tickets for travel to London can be purchased at your local station by asking for "London International" and showing your Eurostar or Rail/Sea ticket from London to your continental destination. These tickets are less restrictive than some other types of domestic tickets and afford the holder the uniform rules concerning the Contract for International Carriage of Passengers and Luggage by Rail (CIV).
Manually written TCV tickets are being withdrawn from 30th November 2004.
To help agents find suitable computer systems ATOC has taken a snapshot look at what each system provides – as at 8 November 2004.
Whilst every care has been taken to ensure accuracy at the time of the snapshot ATOC cannot be responsible for any changes made to the systems by the suppliers or for any inaccuracies in the tables
The analysis is given in a series of tables:
It is no longer possible to purchase outbound International Rail tickets from GB National Rail stations.